Do you want to upgrade your kitchen to a trendy and sleek modular kitchen design? Absolutely! A kitchen remodel or appliance upgrade is a great way to breathe new life into any home. A well-designed kitchen can add a lot of value to the home and make it a more pleasant place to cook and entertain.
When it comes to kitchen décor and appliance finish choices, there are a dizzying array of choices to consider. But how can you make a final decision that meets your functional and aesthetic needs? In this blog, we will examine how you can choose the right finish to match your modular kitchen design vision.
Kitchen Appliance Finish Basics
Earlier, kitchen appliance finishes were limited as most kitchens had white appliances, and cheaper models could discolor over time. Moreover, Premium-grade models were available in stainless steel, but they were very expensive. Thus now, there is a wide range of appliance finishes available at more affordable prices. This means that you can choose the perfect finish for your kitchen, no matter what your style or budget. So, take some time to explore your options and choose the finish that will make your kitchen look its best.
Stainless-Steel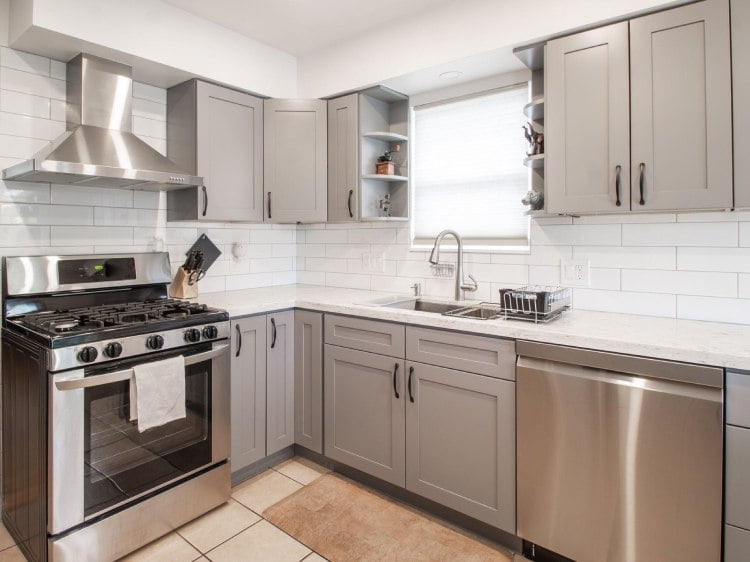 Stainless Steel is like the Original Superhero of all appliances and although its been around for a while, Stainless steel appliances are still a great choice for contemporary kitchens. They are versatile and can complement a variety of design styles. When paired with pure white cabinetry, stainless steel appliances can create a minimalist look. White cabinets and marble countertops complement stainless steel appliances, producing a sleek and modern aesthetic. In a rustic small modular kitchen featuring a wooden modular cabinet design, one can introduce contrast by incorporating a stainless steel refrigerator and stovetop.
Pros of Stainless Steel Finish Appliances
Cons of Stainless Steel Finish Appliances
Durable material
More costly than other finishes
Easy-to-clean
Can show fingerprints and smudges
Works well with most design styles
Black Stainless-Steel
Black stainless-steel brings a modern twist to the sturdy black appliances seen in old industrial kitchens. It's perfect if you want a contemporary look. Unlike regular stainless steel, it has a unique and hard-to-describe appearance. For a more refined touch, match it with darker cabinets and an isolated island. It's great at resisting fingerprints and stays shiny with just a quick polish. If you prefer a matte finish, you can achieve a Bat cave vibe with matte black stainless-steel for modular kitchen design.
Pros of Black Stainless Steel Finish Appliances
Cons of Black Stainless Steel Finish Appliances
Resistant to fingerprints and smudges
More costly than other finishes, including stainless steel
Easy-to-clean
Might be considered "trendy"
Durable
Slate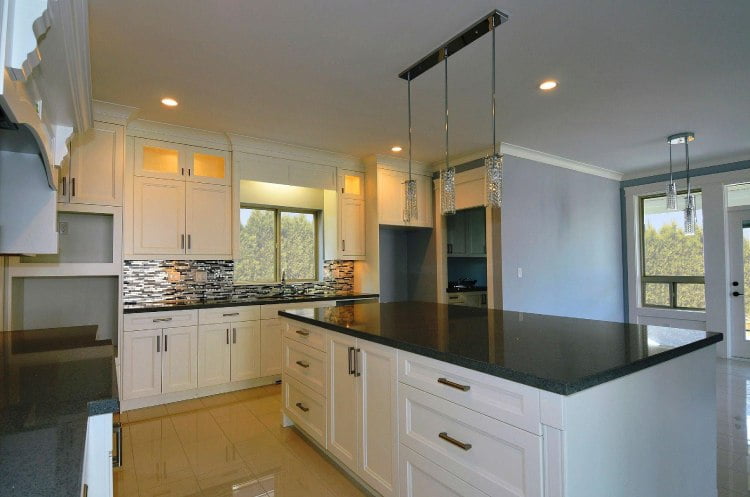 In a small modular kitchen, the slate appliance finish boasts a sleek, modern appearance with its matte, low-gloss texture. It's both fingerprint-resistant and easy to clean, offering a durable and low-maintenance alternative. This adaptability makes slate appliances well-suited to various kitchen colors and styles, fitting seamlessly into any home.
At first glance, the warm and charcoal tones of slate appliances might seem unusual for a kitchen. However, they surprisingly harmonize with a wide array of other shades and textures. For instance, by combining slate appliances with light-colored cabinets and countertops, you can achieve a modern, airy ambiance. Alternatively, when matched with darker wooden cabinets and countertops, you'll craft a more striking and fashionable atmosphere for your modular cabinet design. 
White Finish
White appliances offer an economical and adaptable solution for a small modular kitchen, rendering them an excellent fit for any household. They effortlessly complement a spectrum of colors and styles, including white or soft hues, to achieve a harmonious aesthetic. Within the realm of kitchen design, both parallel kitchen design and modular kitchen design benefit from white appliances. In compact kitchens, these appliances play a pivotal role in creating a sense of spaciousness, especially when matched with open shelving and lighter paint shades.
Pros of White Finish Appliances
Cons of White Finish Appliances
Less expensive than other finishes
May feel "outdated"
Hides fingerprints and smudges
Can discolor over time
Easy-to-clean
Works well with most design styles
Panel-Front
Panel-front or panel-ready appliances integrate a cabinet front that matches your cabinetry seamlessly. When you purchase a panel-front appliance, it arrives without a visible front. Furthermore, You'll need to take an additional step to order a custom cabinet front from a cabinet manufacturer. If you're looking to save money, you can explore DIY options for creating your modular cabinet design panel front using online resources.
Additionally, luxury kitchens often embrace panel-front appliances to create a cohesive appearance, but this investment can also be justified in smaller kitchens. Depending on the placement of your refrigerator, a panel-front might effectively break up the uniformity when appliances are positioned adjacent to one another.
| | |
| --- | --- |
| Pros of Panel-Front Appliances | Cons of Panel-Front Appliances |
| Perfectly matches the rest of your kitchen | More costly than other finishes, requires custom-cabinet panel |
| Can be a useful feature in small kitchens to hide appliances | Can be difficult to clean |
Who says you have to choose only one?
Mix and match appliance finishes to create a unique and stylish modular kitchen design.
Sometimes, a kitchen remodel is tough and confusing, especially, while choosing the right kitchen décor and appliance finish choices. When it comes to appliance finishes, there are no hard and fast rules. You can mix and match different finishes to create a unique and stylish look that reflects your personal taste.
For example, you could pair stainless steel appliances with black appliances for a modern look. Or, you could pair white appliances with wood appliances for a more traditional look. You could even mix and match different finishes within the same appliance family, such as a stainless steel refrigerator and a black stovetop.
Also Read: Mix and Match Kitchen Designs-10 Steps to Make a Kitchen Feel Bright, Spacious, and Bold.
Wind Up
Upgrading your kitchen to a sleek and modern modular design offers a transformative touch for your home. A well-designed kitchen not only adds value but also enhances the cooking and entertaining experience. When navigating the world of kitchen decor and appliance finishes, the options may seem overwhelming, but fear not—there's a perfect choice for every style and budget.
Stainless steel stands as the timeless superhero of appliances, seamlessly blending with various design styles. Black stainless-steel offers a contemporary twist, resisting fingerprints while exuding modernity. The slate finish brings a sleek, low-gloss texture, effortlessly adapting to diverse color palettes. Meanwhile, white appliances provide an adaptable solution that harmonizes effortlessly.
Don't forget panel-front appliances, seamlessly integrating with your cabinetry for a polished appearance. And who says you have to limit yourself? Mix and match finishes to craft a unique, stylish modular kitchen design that speaks to your individual taste.
As you embark on your creating your latest modular kitchen design, remember that the possibilities are endless. Explore, experiment, and create a culinary haven that truly reflects your personality and style. Your kitchen is not just a space, "it's an expression of you".
Also Read: 6 Designs for Kitchen Designs to Save Space.