Are you always jumping between gas stove vs. induction cooktop? Has it always bothered you to have to choose between these two products? Well, let your worries be off. In this article, we will walk you through every detail you need to make a choice between gas stove  and induction cooktops. 
Many professional cooks, as well as men and women in our homes, use gas stoves. It is a typical occurrence in every Indian household. This is owing to its adaptability, which produces a pleasant cooking environment. In addition, there is a large supply in the Indian market.
Gas Stove vs Induction
Cooktop: How Do They Work?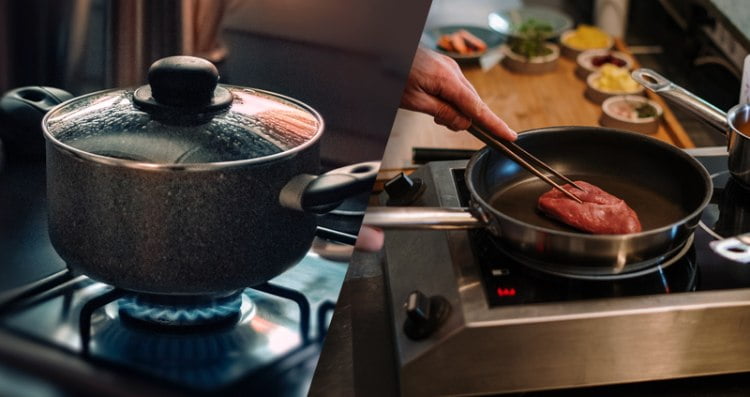 A home gas stove requires one or more gas burners for cooking, where you can keep your cookware. You must either connect the burner to a cylinder or to a gas supply line so that it can obtain the necessary fuel. A knob controls the flow of gas by determining the speed of gas. You may need a gas lighter with a hammer and piezoelectric crystals to turn on the stove.
In contrast, an induction cooktop generates heat by the use of electromagnetism, allowing for cooking. An induction chulha is a cooktop with a mesh of copper wires beneath the glass or ceramic surface that employs alternating current to heat induction-friendly cookware. 
While glass, copper, or aluminum cookware can readily be used on a gas stove, they may not provide optimal heating on an induction cooktop.
The Pros and Cons of
Gas Cooktop
and
Induction Stove
While both of the induction and gas stoves are prevalent in India, there are a few pros and cons to both that make people pick one over the other. Some of them have been discussed below- 
Gas Stoves Pros
The most significant advantage of installing a gas stove is that it may be used in the event of a power outage. You can quickly prepare a meal for the entire family without any difficulty. This provides gas stoves a competitive advantage over induction cooking.

The heat dissipates after the gas stove is switched off. As a result, gas cooktops stay cooler. 

You will obtain a precise and appropriate temperature for cooking your meal. You must turn the flame to achieve a low or high flame.

This does not happen with induction because it takes longer to adjust the flame when the burner warms or cools.

On the gas stove, you can cook with any size or type of utensil.

Gas ranges are ideal for Indian cookery.
Cons
Gas stoves contain metal grates over which each burner holds pans, pots, and other cooking items. When food spills around these burners, the

gas burner top

becomes dirty. Therefore, it becomes difficult to clean and maintain, as opposed to induction, which does not have any burners.

You order a new gas for the gas stove every time it requires professional installation.

There is a risk of hazard if it is not properly placed. Gas leaks have the potential to create major breathing problems as well as a deadly mishap.
Induction Cooktop: Pros
Because induction cooking delivers energy directly to the cooking vessel via a magnetic field, no heat is wasted.

The induction stove consumes 84% of the power, whereas the gas stove consumes 40%.

Unlike a gas stove, which remains hot after induction, the induction stays cool while heat is transmitted to the cooking pot.

It provides safety, as opposed to a gas stove, which may leak gas. It does not create heat and poses less health risks than gas stoves.
Cons
It only works with pots and pans that are magnetic. When compared to regular pots and pans, the ones you need for induction are pretty pricey.

It needs electricity to work, so you won't be able to cook food if there is no energy or if the power goes out.

You can't use the latest stove if you have a pacemaker in your body.
Gas Stove vs. Induction
: How Much Do They Cost?
Price difference is a huge deal for Indians and in India, there is a big difference between gas stoves and induction cooktops when it comes to price.  Induction cooktops with a single plate cost between Rs. 2,500 and 4,000. But two- and three-burner induction cooktops are very expensive.
Prices for gas stoves can be anywhere from Rs. 500 to Rs. 50,000, based on how they look and what they are made of. 
What is Most Suitable for You?
For an Indian kitchen, a gas stove is clearly the best choice. It helps by regulating the cost of electricity and giving the flexibility to cook in a diverse way. 
The various advantages of a gas cooktop makes it quite suitable for us. But, induction cooktops have also been prevalent for a long time now and their advantages cannot be ignored either. 
If you need to buy the best gas cooktop in the market, check out the wide range of products by Caps India. Choose affordable items without compromising your quality.